Rainbow Cafe
Partnership of Tepebaşı Municipality and Disabled People Assosiaciation has implemented Rainbow Cafe in the purpose of integrating mentally disabled people with society and improving their self-confidence.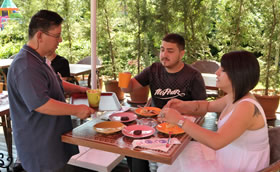 On the top floor, disabled people are able to join different, joyful activities from photography to paper marbling, folkloric dance to Latin Dance.
At the same time, Rainbow Cafe is a serving place for disabled people where their mental development can be followed by professionals. In today's conditions, families of disabled people, have difficulties. Rainbow Cafe lightens their problems with the idea of "The only disability is prejudgement!"
Any Photo You Want Here!
---